December 15, 2006

Reimyo CAT-777 Preamplifier Reimyo is a brand of the Combak Corporation, known for its Harmonix resonance-control products, interconnects, and speaker cables. Combak is Kazuo Kiuchi, a perfectionist whose concern for detail and excellence is well known in the high-end industry. More about Kiuchi-san and Combak's collaborative work with other perfectionist Japanese companies for its Reimyo line can be found in my Ultra Audio reviews of earlier Reimyo products. I found Reimyo's DAP-777 and CDP-777 to be, respectively, head and shoulders above all other digital-to-analog converters and single-box CD players I'd heard. So when I see the word "Reimyo" on an audio product, I expect nothing less than outstanding design, production, and performance: in a word, perfectionism.

Inside and out

The perfectionist route often places high value on simplicity of design and functionality, and the first thing that struck me about the CAT-777 ($15,495 USD), which Reimyo calls a "vacuum tube control amplifier," was its neat appearance: the elegant simplicity of the front- and rear-panel layouts, and the thick, burnished aluminum faceplate. No bells or whistles, just an On/Off switch, four well-marked function buttons (each with an indicator that lights up when that function is chosen), two symmetrically placed knobs that control input levels for the left and right channels, and a much larger knob that controls the variable-input volume levels. The input-level controls are usually set at 12 o'clock, but can be adjusted to suit your listening preferences. The main volume knob is continuously variable from 0 to +17dB and is used to fine-tune the sound level. I usually set the input controls between 9 and 12 o'clock, depending on the CD's recording level and to achieve optimal match with my amplifiers and speakers. The input volume controls do double duty as balance controls.

The rear panel presents no puzzles. A central AC receptacle and single-point ground terminal are flanked by clearly marked RCA input jacks, below which are two rows of three outputs each, for use with multi-amplifier systems. The input and output jacks are clearly bracketed and arrayed on the panel's far left and far right -- none of the bunching-together common to most equipment.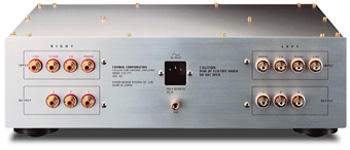 Reimyo says that virtually all of its components -- including transformers, RCA terminals, capacitors, and internal wiring -- are designed and/or manufactured by Combak. To control resonances, the CAT-777 is fitted with Harmonix tuned feet and tuning devices, which, Reimyo claims, "eliminate the distortion caused by harmful resonance frequencies by integrating them to create the most lifelike sound reproduction." In other words, these devices move intrinsic resonances into areas of the tonal spectrum where they will enhance rather than distort the sound. Whatever the theory behind their approach, I've found that it works, in everything from electronic components to the listening room itself.
The CAT-777 uses no negative feedback. Its tube complement includes two 12AU7s for amplification, two 12BH7As as tube buffers, and two 6X4WAs as tube rectifiers. Channel separation is rigidly enforced. Each channel is arranged symmetrically for optimum balance; a shield plate prevents interchannel interference. Each channel also has its own dedicated power supply. The wiring is solderless, with identical lengths for each channel; the circuits' directionality and polarity are checked at the factory. No power cord is included, but Reimyo recommends one of Harmonix's own premium products -- I was lent an X-DC Studio Master (1-3m, $920-$1825), but also tried less exalted cords with satisfactory results.
I was surprised that the CAT-777 lacked air vents of any kind, but it never struck me as running overly warm, even during long listening sessions. But I'd placed it on a top shelf on my equipment rack; a more cramped space seems inadvisable. The top panel is secured by 16 bolts, so changing tubes could be a more labor-intensive operation than usual.
Sound
I inserted the CAT-777 in a reference system that included the Esoteric DV-60 and Denon Exemplar DVD-3910 universal players, a Metronome Signature CD transport and DAC, a Wyetech Opal line-stage preamplifier, modified Jadis JA-80 monoblock power amplifiers, Von Schweikert VR-4 Gen.III HSE loudspeakers, and Siltech Classic Series Mk.II interconnects and speaker cables. Accessories included the high-performance, high-value Vibrapod Isolators and Cones, Harmonix footers, L'art du son disc-cleaning fluids, and a Bedini Ultra Clarifier.
The CAT-777's strengths were immediately apparent with all source material, and its ability to resolve complex aural data strikingly so. In a new CD, trumpet virtuoso Håkan Hardenberger plays three contemporary trumpet concertos, by Gruber, Eötvös, and Turnage, scored for a wide variety of instruments [CD, Deutsche Grammophon 477 6150]. In addition to standard trumpet, Hardenberger plays a facsimile of an ancient Swedish cowhorn, a piccolo trumpet, and a flugelhorn, and in the Eötvös he's often joined by a ghostly trio of trumpeters located behind him. The CAT-777's pinpoint resolution never left any doubts as to which instrument was being played. In the Eötvös, the three backup trumpets were precisely placed behind the soloist -- there was always a clear differentiation between Hardenberger and his accompanists.
Along with outstanding resolution that enabled more detail to emerge from recordings, the CAT-777 displayed superb dynamics and, even more important, microdynamics -- those subtle, even barely discernible changes in, say, a violinist's bow pressure, or the carefully nuanced gradations of a pianist's touch on the keys.
Reimyo's claim of superior dynamics was borne out by CD after CD -- with naturalistic recordings, the sound came close to the actual dynamic range of live, acoustic music. The recording industry still hasn't learned this -- far too many recordings render soft passages barely audible and loud ones crushingly, painfully, thunderous. But in the concert hall, instruments played pianissimo retain their roundness and can be heard without strain, and even the most powerful orchestral climaxes don't deafen you -- the latter are always in a narrower proportion to the quieter passages than reproduced music allows. While the CAT-777 can't do more than any given CD will allow it to, on those recordings where the engineers haven't gone for "knock 'em dead" effects, it came closer to the real thing in terms of dynamics than any other preamp I've heard.
An example of this is Paavo Järvi and the Cincinnati Symphony's recording of Britten's Four Sea Interludes from Peter Grimes [Telarc 60660]. The mysterious Dawn movement, with its quiet, deep piano and softly rumbling bass drum, were reproduced with exactness, while the fortissimos of The Storm, with its pounding timpani, were supremely powerful without sounding exaggerated.
As for the all-important microdynamics, an example can be found in an excellent collection of rarely heard works for violin and cello played by two world-class virtuosos, violinist Frank Peter Zimmermann and cellist Heinrich Schiff [CD, ECM 1912]. In an arrangement of two canons from J.S. Bach's The Art of the Fugue, the pair interweave their complex lines with an engaging clarity made more realistic by the nuances apparent from each player. In Ravel's Sonata for Violin and Cello, the infinite number of shadings the master colorist's writing draws from these instruments are well realized by Zimmermann and Schiff through their subtle use of a variety of plucking, bowing, and timbre, all realistically portrayed by the CAT-777. While the ultimate success of this performance is due to the microdynamics unveiled by a good system, the recording itself features naturally wide dynamics -- the plucked passages leapt from my speakers as they do in a good small concert hall.
Transients were child's play for the CAT-777, as evidenced by John Luther Adams' Strange and Sacred Noise [CD, Mode 153], an exploration of the tonal possibilities of percussion instruments ranging from snare drums to marimbas -- as well as four air-raid sirens -- all played with aplomb by the Percussion Group Cincinnati. One work, . . . dust into dust . . . , for two snare and two field drums, sets a light, fluttery drumroll on the snares against aggressively sharper rolls, each stroke identifiable via the CAT-777. In another work, clusters on a quadrilateral grid 2, for four vibraphones, the instruments' ringing top end leaves thin overtones that hang in the air and mix with the direct metallic sound of the bell-like vibes in an enveloping cloud -- all in all, a complex sound-brew that the CAT-777 easily handled.
I heard a similar combination of transient truth and tonal accuracy in New York Time, which features a stellar jazz quartet of Christian McBride, Javon Jackson, Jimmy Cobb, and Cedar Walton [SACD/CD Chesky 314]. On "Sixth Avenue," Cobb's sizzle cymbals created a faint mist of sound, and McBride's woody bass had all the depth and tonal integrity one could ask for. On "My Shining Hour," Walton's fluent pianism shone, even as I was transfixed by the uncanny verisimilitude of Jackson's tenor sax.
Finally, recordings by three opera singers provided proof of the CAT-777's attainment of that elusive ideal of tonal accuracy; it delivered a full measure of this when a recording's engineers had captured it in the first place, and a full measure of their failures when they hadn't. The discs were: Mozart Arias, with Finnish soprano Soile Isokoski [CD, Ondine 1043]; Mozart Opera and Concert Arias, with the sensational mezzo-soprano Elina Garanca [CD, Virgin 32631]; and a compilation of live recordings by one of the great singers of the 1950s, Elisabeth Grümmer [CD, Golden Melodram 7.0002].
The CAT-777 was kinder to Isokoski's silvery lyric soprano than my previous experiences of her Ondine recordings. Her voice seems a difficult one to record -- relatively thin on top, and exaggeratedly so on CD. But in the high-lying "Ruhe sanft," from Mozart's Zaide, her top notes took on a more rounded quality than is usual in her recordings, and in other arias there was more body to the voice and therefore more realism. This effect wasn't due to any tube-added bloom; rather, it was a more accurate depiction of what Isokoski sounds like in the opera house. So when, as in the recitative of "Dove sono," from The Marriage of Figaro, I heard a touch of hardness in the mid-treble, the CAT-777 rendered it without any falsely euphonic cover-up.
All three CDs include versions of Fiordiligi's "Come scoglio," from Mozart's Così fan tutte, which allowed for some telling comparisons. Alongside Garanca's feisty version, Isokoski's well-tailored singing sounds dull. Timings for both singers in this aria are precisely the same, but the CAT-777 laid out clearly Garanca's greater range of vocal color, rhythmic acuity, characterization, and sharpness of phrasing, and threw Isokoski's more generalized singing into relief. Virgin's engineers have also captured more orchestral detail and color for Garanca, as I easily heard through the CAT-777.
The Grümmer disc is special because it captures a great soprano at the height of her career. Although Grümmer was the "other" leading German soprano of the 1950s, she never achieved Elisabeth Schwarzkopf's international status, primarily because she had neither the publicity machine nor the wisdom to marry Walter Legge, then the power behind EMI's classical division. Sometimes, musical politics trumps musical superiority. This disc's engineering is dated. "Come scoglio," for example, is taken from a 1953 concert broadcast, and there's tape flutter and some distortion in sustained high notes. The recording quality of the rest of the disc is variable; some items are unobjectionable, others more reflective of the sonic shortcomings of early-1950s broadcast quality. But for that reason alone, the Grümmer disc is valuable for assessing the qualities of audio equipment: It tests whether the music and performance can reach you through the deficiencies of dated engineering. In this case, enthralled by the music and the singing, I quickly forgot about the sound as such. Grümmer's gorgeous voice touched me and, through her musicianship -- and through the Reimyo CAT-777 -- so did the music. That told me, as well as could the glossiest new digital studio production, that the CAT-777 was doing what it was supposed to: acting as a vehicle for music and not solely for hi-fi thrills.
Conclusion
Thanks to Reimyo's indulgence and to circumstances out of my control, the CAT-777 remained in my system longer than review products usually do. When that happens, I sometimes count the days until I can pack up the review sample and ship it back. Not this time. Every day the CAT-777 was in my system brought a riper, richer listening experience. The Wyetech Opal has been my reference preamp for years; the CAT-777 is the only preamp I've heard in my system that vanquishes it.
One evening, while working on this review, I attended an all-Mozart piano recital by András Schiff for review in another publication. Usually, such assignments are a snap. This time, I found myself at a loss for words. Schiff played with such technical facility and such deep understanding of the music, and was able to communicate it with such naturalness, that it seemed as if these works could be played in no other way. In addition, there was a humanity to the performance, a reaching out from the composer's heart to the listener's through the intermediary of the pianist.
When I got home, I played recordings of some of what I'd just heard live on my system. No, it wasn't the same; it never is. But it helped me articulate what I feel most strongly about the Reimyo CAT-777: It "plays" music with a natural ease, a humanity, that is rare in my audio experience. There's an honesty about its presentation that's not found in gear that aims to overpower you, or other gear that's too reticent to do anything but bore you. The CAT-777 has all the virtues I look for in an audio component -- tonality, detail, soundstaging, etc. -- but it also has an innate musicality and naturalness that few such products attain. Simply put, the CAT-777 is a magnificent musical instrument.
Of course, magnificent equipment comes at a price. These days, I suppose a price of $15,495 no longer raises some eyebrows, though it certainly does mine. But quality costs, and the CAT-777 is a quality unit.
…Dan Davis
dand@ultraaudio.com
Reimyo CAT-777 Preamplifier
Price: $15,495 USD.
Warranty: One year parts and labor.
Combak Corporation
4-20, Ikego 2-chome
Zushi-shi, Kanagawa 249-0003, Japan
Phone: (81) 046-872-1119
Fax: (81) 046-872-1125
Website: www.combak.net
North American distributor:
May Audio Marketing, Inc.
2150 Liberty Drive, Unit 7
Niagara Falls, NY 14304
Phone: (716) 283-4434
Fax: (716) 283-6264
Website: www.mayaudio.com

All contents copyright Schneider Publishing Inc., all rights reserved.
Any reproduction, without permission, is prohibited.
Ultra Audio is part of the SoundStage! Network.
A world of websites and publications for audio, video, music, and movie enthusiasts.