February 1, 2004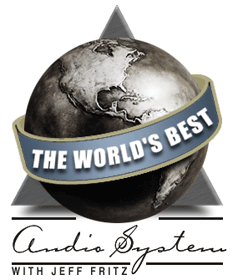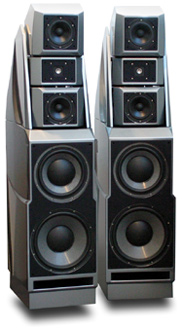 Wilson Audio Specialties Alexandria X-2 loudspeakers
The World's Best Audio System
Everything that is really great and inspiring is created by the individual who can labor in freedom
Compromises are inherent in life's choices. We constantly weigh one thing against another, gambling in some instances, conserving in others. Most of us splurge, but not too much or for too long. Getting comfortable with being excessive is dangerous.
When it comes to splurging on audio equipment, I'm experienced. Much of the equipment I've written about over the years I've owned -- as in purchased. I regularly put my money where my mouth, or keyboard, is.
But I've become somewhat harder to please over the years. I'm no longer satisfied with really good, or even really, really good, sound. Once you've decided to throw cost concerns to the wind, the quest for the best audio gear extant doesn't expand your choices -- it narrows them. The truly exceptional component is far more rare than you'd believe from thumbing through buyers' guides with an eye on the price columns. Assembling a system full of such components, in which each part works synchronously with the others, takes commitment.
I figured it was time to do away with practical limitations and get totally frivolous -- and serious. I owned Wilson Audio X-1 Grand SLAMMs for years, all three versions. I loved them. They were the centerpieces of a system that saw some mighty fine associated equipment over the years. But something was brewing up in Provo, Utah, home of Wilson Audio Specialties, and I'd caught wind of it. I was getting ready to build a new home and figured it was time for something even more grand than Grand SLAMMs.
I questioned Wilson Audio's John Giolas and Peter McGrath at the 2002 CEDIA Expo. "Can you give me some details? Will it be a replacement for the WAMM, or another upgrade of the X-1? When will whatever they are be ready?"
I was met with a brick wall. "Just build your dream house. Leave the dream speakers to us," said the quick-witted Giolas.
It wasn't until the 2003 Consumer Electronics Show that I saw it: the Wilson Alexandria X-2. It was visually striking -- somewhat similar in form to the X-1, but at the same time altogether different. I had to hear the Alexandrias, but the exhibit in Las Vegas was a silent one. Another six months passed. Finally, the wait was over: I was treated to a comparison in David Wilson's home, where the X-1 and Alexandria X-2s were pitted against one another. The result? A new reference was established.
Fast-forward to Denver, Colorado some weeks later: SoundStage! Network editor-in-chief Marc Mickelson and I were conversing over dinner after visiting a number of audio manufacturers in a whirlwind of factory tours. "The X-2s are going to make a great Ultra Audio article, but what if we bring in some other manufacturers, too, to complete the experience?" Marc's eyes lit up. The game was afoot.
With Marc's assistance, I set out to assemble The World's Best Audio System for the purposes of writing this article and those that follow -- the best, that is, for me. It may not be the best for you, or for every conceivable environment or budget. But this is my best system you're reading about, so the rules and final judgment are my own.
Speakers
The Alexandria X-2s in Grigio Titanio finish, all 2000 pounds in seven shipping crates, arrived with a big kerplunk. This four-way, six-driver, modular monolith is, by all indications, the crowing achievement in David Wilson's esteemed career of making loudspeakers. At $125,000 USD per pair, they're a cool 45 grand more expensive than the still-current X-1 Series III, and $102,300 more than the classic WATT/Puppy 7.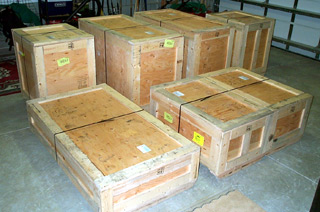 The crates have arrived...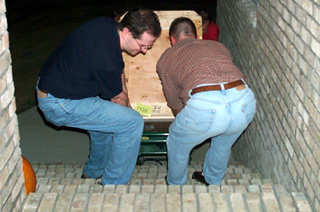 ...but Anthony Di Marco (left) and Jeff Fritz need to get them into the house.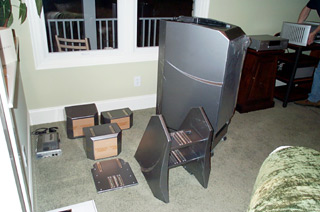 An Alexandria X-2 unboxed.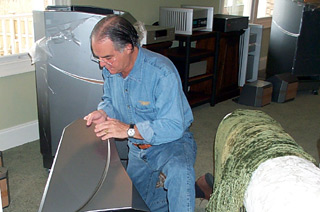 Wilson Audio's Peter McGrath moves in quickly to make sense of the chaos.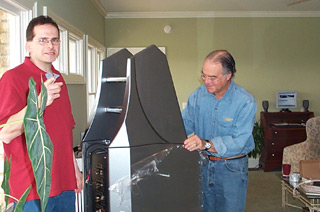 Anthony observes Peter at work.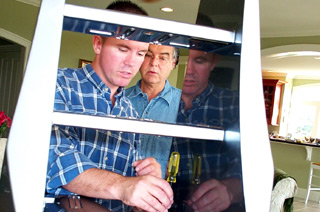 ...but it's Jeff who handles the heavy machinery under the tutelage of Peter.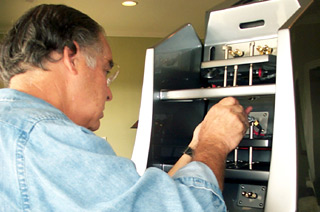 Peter handles the details.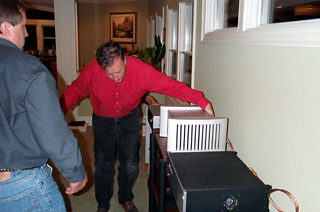 "I swear the one that got away was this big." Shunyata Research's Grant Samuelsen (left) and Halcro's Philip O'Hanlon move in to do their thing.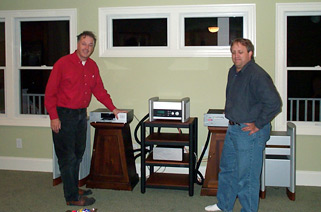 Phillip and Grant finish in no time.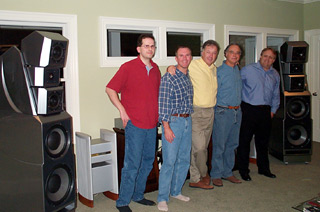 Just a typical day installing The World's Best Audio System.
That's a ridiculous amount of money, but somehow, as I was helping set up these speakers in my living room, I was not at all bothered by the price. I'd heard these better my X-1s, so I was convinced of their worth. Peter McGrath, an accomplished recording engineer and one of Wilson Audio's setup wizards, assembled and calibrated the X-2s in my living room.
Amplification
The Halcro dm68 monoblocks (225W into 8 ohms), those ultra-low-distortion super-fidelity amps from Down Under, were my choice to drive the speakers. Halcro's matching dm8 line-stage preamp was there to control the volume and source switching. There's typically a synergy with an amp-preamp combination from the same manufacturer, but there was a greater deciding factor in my choice: I'd heard these electronics drive Wilson Audio speakers to magnificent effect at the 2003 CES. There, the combination of Halcro electronics and Wilson MAXXes permanently burned an image in my aural memory. I'd heard the MAXXes before, but never quite like this. I knew the Bruce Candy-designed Halcros were weaving magic. The sound at that CES was ethereal yet tangibly real, and I was struck by it -- and by the price: $37,990 per pair for the dm68 amps, $12,990 for dm8 line stage. Philip O'Hanlon, Halcro's North American distributor, ably installed the electronics in the system.
Power and cables
The power-distribution and cable systems were from Shunyata Research. The $1995 Hydra Model-8, a SoundStage! Innovation in Design award winner, was connected to a dedicated line via an optional Anaconda Alpha power cord ($1995 each), then connected to the other components in the system with a combination of Anaconda Vx ($1995 each) and Diamondback ($175 each) power cords. The latter come standard with Halcro electronics, a testament to the pairing's synergy.
Speaker cables were the top-of-the-line Constellation Series Andromedas ($2995 per eight-foot pair); the matching Aries interconnects ($650 per one-meter pair), in both RCA and XLR configurations depending on the need, rounded out the system. Grant Samuelsen, Shunyata's national sales manager, ensured that each component was optimally tethered to its neighbor, and that the system AC was powering everything to perfection.
Digital
My source components were Ed Meitner's $9995 EMM Labs DAC6e six-channel DSD converter and a Meitner-modified Philips SACD1000 transport (the modification is $1400; the price of the transport varies, as this model has been discontinued and is available only through the used market). These two components were configured to pass a DSD signal via ST glass optical cable. You've heard about these components if you follow the audiophile Internet buzz, and I'm here to tell you that the superlatives you've heard are true. My digital reference up to this point, the most excellent Esoteric DV-50 universal audio/video player, was trounced in all of ten seconds -- playing SACDs, the improvement in resolution and transparency was mind-numbingly apparent to all in attendance.
Playing backup to the EMM Labs-Philips combo was a portable Nagra V digital recorder ($6200) containing, via a hard-disk drive, a selection of Peter McGrath's own symphonic recordings. This little fellow holds about 20GB of music and, with its simplicity of use and jewel-like build quality, is easy to get attached to.
The grand total for this system exceeded a wallet-rattling $205,000 -- plus shipping!
In addition to Grant Samuelsen, Philip O'Hanlon, Peter McGrath, and me, on hand was fellow SoundStager Anthony Di Marco, flown down from Massachusetts to lend a strong back and a good ear. Among the five of us, we had over a century of experience traversing the cliffs of audiophilia without ropes or safety devices.
The plan was to begin setting up The World's Best Audio System on Friday night, finish up on Saturday morning, listen most of the afternoon, and go out for a back-patting meal that night. Everything was accomplished according to schedule and without a hitch, except that we never did make that meal. We couldn't drag ourselves away from what we were hearing.
It all must have looked strange to casual observers -- such as my wife, Andrea, and Peter's better half, Elizabeth. Here were five grown men, rotating three at a time on a couch, utterly transfixed by a stereo system. We looked mesmerized by what we were hearing. We were.
What was all the fuss about?
To a greater degree than with any other audio system I've ever heard, this one "disappeared" into nothingness. There was no noise, no artificial artifacts, no limit in dynamics or scale. Imaging was as ultra-precise as I've ever heard, but with a life-sized scale that lent credibility to the precision. There was width to the soundstage that extended far out to the sides, and depth seemingly beyond the front wall. The scale was to neck-craning proportions just when the music called for it, but the music could sound delicate and pristine, too -- just like its live counterpart. We listened to Peter McGrath's master tapes as well as to a wealth of SACDs. Without fail, the sound beguiled and captivated us.
Kodo's Mondo Head SACD [Red Ink/Sony 56111] presents an almost perfect example of all the characteristics just described. The various percussion instruments jump from space in a startling exhibition of transient snap, full frequency response, and large-scale dynamics, all from within an immense, continuously rendered soundstage. Things begin delicately on "Daraijin," for example, but grow in intensity, complexity, and scale as the song builds. This system tracked the musical fluctuations perfectly, not miniaturizing the subtleness or, conversely, compressing the dynamics. Effortless is a term often used in describing the sound of a good hi-fi. The World's Best Audio System set a new standard in my book.
Andrea Bocelli's sheer vocal presence on "Resta Qui" (Cieli Di Toscana on SACD [Sugar/Polydor 314 589 813-2]) was palpable and haunting. If midrange faithfulness is the ultimate litmus test, listening to this disc on this system proved just how real reproduced music can be. I'd go on and on about the sound of Bocelli, but how do I expand upon real?
Perhaps one of the greatest listening revelations I've ever experienced came to me when enjoying to a longtime reference disc, the Gladiator soundtrack [Decca 289 467 094-2]. The third track, "The Battle," is over seven minutes long, and it builds to a violent crescendo just past the six-minute mark. In the past, I'd have sworn I heard a touch of deliberate compression at the dynamic extremes; every time I'd heard it before, I could just perceive a place where things leveled off, unnaturally so. This time was different. The sound kept building and building, with no compression -- and no loss of delicacy in the upper reaches. My previous combination, of Wilson X-1s and Krell FPB-700cx power amp, in a room of similar size in my old house, could never match this feat.
Truth is what stands the test of experience
The die has been cast. I've heard music played over a sound system whose limitations, for all practical purposes, didn't exist. Best of all, it was in my own house, so I know what to expect from here on out.
I'm skeptical that this particular stereo system can be bettered anytime soon. But my job, in the interests of Ultra Audio, is to try to do just that. You'll read regular reports about the details in this space. We're currently lining up what we think are worthy contenders, from manufacturers around the globe, for their turn as part of The World's Best Audio System. But until I'm convinced otherwise, what I have now is it.
...Jeff Fritz
jeff@ultraaudio.com

All contents copyright Schneider Publishing Inc., all rights reserved.
Any reproduction, without permission, is prohibited.
Ultra Audio is part of the SoundStage! Network.
A world of websites and publications for audio, video, music, and movie enthusiasts.